AUDIO NEWS RELEASE: Severe weather warning for damaging winds across Tasmania
07/05/2018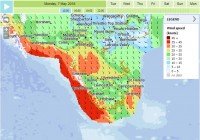 Senior Meteorologist Alex Melitsis from the Bureau of Meteorology, Tasmania discusses:
- Severe weather warning current for damaging winds across all of Tasmania
- Strong northwesterly winds with gusts up to 100 km/h this afternoon
- Strongest winds late afternoon/evening of around 110 km/h in the southern half of the state, possibly in excess of 120 km/h in elevated areas
- Winds are due to a vigorous cold front crossing Tasmania this evening
- Details about weather later in the week including the potential for significant rain during Thursday, Friday and Saturday.
Audio is available for download.
This audio is current for Monday, 7 May 2018 at 10.45am.
The latest weather and warnings are available on the Bureau of Meteorology's website.
Weather forecasts and warnings are regularly updated on our website at www.bom.gov.au/tas