AUDIO NEWS RELEASE: Weather forecast for Victoria
08/05/2018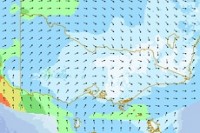 Senior Meteorologist Richard Carlyon from the Bureau of Meteorology, Victoria discusses:
- Cold conditions arriving on Thursday with showers and possible thunder, small hail and snow down to 900 meters.
- There is still some uncertainty about exactly how much rain will fall and where (depending on the location of the low pressure system), however potentially heavy rain is likely across Central areas (including Melbourne) on Friday.
- Rain likely to move to eastern areas on Saturday.
Audio is available for download.
The latest weather and warnings are available on the Bureau of Meteorology's website.
For the latest weather and warnings go to: http://www.bom.gov.au/vic/forecasts/ and http://www.bom.gov.au/vic/warnings/