WEATHER UPDATE: Cold front for southeastern Australia
08/05/2018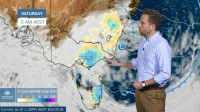 SENIOR METEOROLOGIST, ADAM MORGAN: Hello from the Bureau, ahead of a cold, wet and windy end to the week for southeast Australia.
After such a warm autumn so far, this week's change in the weather will come as a real shock to the system.
We're also expecting potentially significant rain in some areas.
Here's the cold front we're watching. It's currently way down in the Southern Ocean to the south of Western Australia.

We'll track it over the next couple of days as it moves up towards the southeast, to the west of Tasmania.

Temperatures will plummet on Thursday as the pool of cold air behind the initial cold front begins to bite.

We'll see wintry maximums between 2 and 6 degrees below average for May across southeast South Australia, Victoria and southern New South Wales.

The cold and unstable airmass will bring rain, thunderstorms and small hail, and snow to around 900 m over the Alps.
It's on Friday that we'll see a complex low pressure system really develop through eastern Bass Strait as it interacts with a deep upper-level trough.

Wind will increase, and the coldest air will move into New South Wales, with maximums more than 6 degrees below average extending up through the Central Tablelands.

With the snow level remaining at around 900m it's possible that we'll see some reasonable snow fall on the western side of the ranges, which may impact rural transport.

Now, rain will be an important component to this weather system, and many communities are desperately waiting for rain after a very dry start to autumn.

What we're confident of right now is that for some areas extending from central Victoria through to east Gippsland, and along the east coast of Tasmania, heavy rain during Friday and Saturday will have a significant impact.

What we're less confident of at the moment though is exactly where those impacts will be, and how much rain will fall.

The main reason for that is because not all of the computer models that we survey are in good agreement yet.

While some are suggesting the highest rainfall totals from Thursday through Sunday will be through central Victoria, western and central Gippsland and eastern Tasmania, others suggest the heaviest rain will be confined to far eastern Victoria.

We expect the rainfall story to become clearer over the next couple of days.

This will be a dramatic switch to winter after a dry and warm autumn so far.

Forecasts are updated regularly, and stay up to date with weather warnings as they're issued this week, by going to our website or app.

Follow us on social media for real-time updates from the Bureau.