AUDIO NEWS RELEASE: Severe weather warning for parts of Tasmania
10/05/2018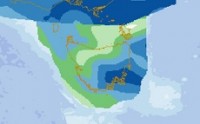 Supervising Meteorologist David Matthews from the Bureau of Meteorology, Tasmania discusses:
- Rainfall over east, southeast and central areas expected to reach 20-50mm today, isolated falls in excess of 60mm
- Friday will see rain in the east, southeast and central parts of around 30-60mm, locally 60-80mm.
- Rain will begin easing during Friday afternoon
- A Flood Watch, Road Weather Alert and Severe Weather Warning are current for areas of the state – details and locations at bom.gov.au/tas/warnings/
Audio is available for download.
The latest weather and warnings are available on the Bureau of Meteorology's website.
For the latest weather and warnings go to: http://www.bom.gov.au/vic/forecasts/ and http://www.bom.gov.au/vic/warnings/