WEATHER UPDATE: 3rd update on Cold front for southeastern Australia
10/05/2018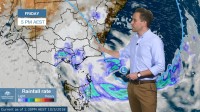 SENIOR METEOROLOGIST, ADAM MORGAN: Hello from the Bureau with an update on the cold snap across southeast Australia.
The initial cold front crossed Tasmania and southern Victoria during late Wednesday and overnight with a band of rain.
Bright sunshine this morning in Melbourne followed around 5 to 10 mm overnight, but the worst of the weather is still on the way.
Here's the coldest air, it's that speckled area of cloud, over western Victoria. It's full of showers, small hail and isolated thunderstorms.
It's very windy in amongst it all too. And we've got a Severe Weather Warning current for damaging wind gusts of up to 100 km per hour extending through from southeast South Australia and through Victoria. And in Victoria the warning is for heavy rain as well.
The bitterly cold wintery weather will continue to move across Victoria and southern New South Wales during Thursday, moving into Melbourne for the early afternoon.
For many places it will be the coldest period since last September.
With the low pressure centre to the east of Tasmania, winds there will wrap around the system from the south to southeast.
They'll be equally as strong as on the mainland, so we've got a Severe Weather Warning for damaging winds there as well, gusting as high as 100 km per hour.
Rain will increase from late Thursday and continue from Friday, falling as snow above 1000 m. Rain will be significant in some locations which could see over 100 mm by the time the rain ends, so we've got a Flood Watch in place for the eastern part of the state.
Back on the mainland, the coldest air on Friday will move north into New South Wales and across the ACT.
The forecast of 9 degrees in Canberra on Friday would make it the coldest day in the first half of May since 1970.
We'll issue a Severe Weather Warning later today for damaging winds, and for blizzards across the Alps.
Snow to as low as 800 m on Friday extending as far north as the Central Tablelands, could see as much as 10 cm settle above the snow line on the western side of the divide. This would have the potential to impact rural transport.
Along the south coast, we'll see the risk of hazardous surf increase as that low develops in the western Tasman Sea. That risk of hazardous surf will extend further north along the NSW coast during the weekend.
In Victoria, showers will tend to rain on Friday through central areas, and places like Melbourne could see around 15-30 mm. You should also expect bitter, gale force southerly winds as well during the late morning and afternoon.
Rain will increase through Gippsland during Friday, and continue throughout Saturday. Exact totals will depend on just where individual low pressure systems form, but with all the moisture feeding in from the Tasman Sea it's possible that we could see around 50 to 100 mm of rain along the Gippsland ranges, with locally higher totals.
It'll be welcome for many, but may also present a flood risk, so we've issued a Flood Watch for parts of Gippsland and the Yarra River catchment.
There's a lot going on with this complex weather system, which will impact a broad area of southeast Australia in different ways, at different times.
Stay up to date with warnings as they're issued on our website and app, and follow the Bureau on social media for real time updates over the next few days.