AUDIO NEWS RELEASE: Weekend weather for Victoria
11/05/2018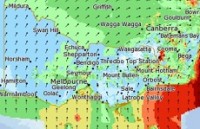 Senior Meteorologist Rod Dickson from the Bureau of Meteorology Victoria discusses:
- Rainfall totals across Thursday night and Friday morning
- Expected rainfall across the weekend
- When strong winds will hit Melbourne area and what's already been recorded
- Forecast for the weekend
Audio is available for download.
This audio is current as of 10am on Friday, 11 May 2018.
The latest weather and warnings are available on the Bureau of Meteorology's website.
For the latest weather and warnings go to: http://www.bom.gov.au/vic/forecasts/ and http://www.bom.gov.au/vic/warnings/