West Takone Radar offline for service works
15/05/2018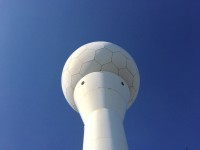 Tasmania's West Takone Wurrung radar will go offline for approximately two weeks from 15 May for routine service works that will maintain and enhance its operational capabilities.
The radar is one of five Bureau of Meteorology Wurrung radars in Australia to undergo an update in 2018.
The service works will update and standardise the radars to the latest system configuration bringing the radars into a common, consistent configuration that will improve ongoing performance and reliability, extend the life of the radars, and simplify ongoing maintenance.
"This update to the West Takone radar is a routine upgrade that we will undertake regularly during its 30-year lifecycle," Acting State Manager, Simon McCulloch, said.
"We are constantly improving our technology and equipment for weather services across Australia, and as you would expect with anything you buy or invest in, it needs to undergo routine services and updates as new technology or parts become available.
"This is all part of ensuring we provide the best service possible to the Tasmanian public."
During the upgrade forecasters will continue to draw on observations from a range of sources including satellites, automatic weather stations and flood warning networks.
Members of the public can receive up-to-date forecast information via MetEye (www.bom.gov.au/australia/meteye).