AUDIO NEWS RELEASE: Severe weather warning for parts of WA
24/05/2018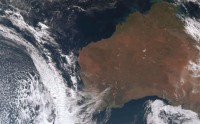 Bureau of Meteorology WA spokesperson Neil Bennett discusses:
- Potential impacts of a cold front about to cross the WA coast
- Potential for widespread wind gusts up to 90km/h
- Potential rainfall of between 15-30mm and isolated falls in excess of 50mm
Audio is available for download.
This audio is current as of 1pm AEST on Thursday, 24 May 2018.
The latest weather and warnings are available on the Bureau of Meteorology's website.