Weipa Radar offline for maintenance work
12/06/2018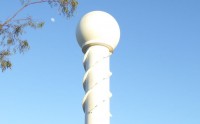 The Bureau of Meteorology weather watch radar at Weipa will be offline for approximately two weeks from tomorrow (13 June) while we undertake refurbishment and maintenance works.
This work will upgrade obsolescent parts and standardise equipment for greater resilience and faster return to service turnaround.
Concurrently our engineering and technical staff will undertake routine scheduled maintenance to the radar.
Following completion and testing of these works, we anticipate the radar will be returned to service during the last week of June.
These works have been scheduled during the dry season when the impact of severe weather is less likely to minimise disruption to the community and mining operations on Cape York Peninsula's west coast.
Update 28 June 2018: Weipa Radar has been returned to service today, following successful completion of works as scheduled.