AUDIO NEWS RELEASE: Winter burst on the way for Victoria
12/06/2018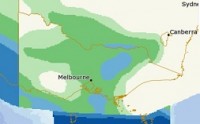 Bureau of Meteorology Victoria Senior Meteorologist Richard Carlyon discusses cold wintery conditions on the way for Victoria including:
- Forecast rainfall
- Snow information
- Details of strong winds later in the week
Audio is available to download.
This audio is current as of 2.00pm AEST on June 12, 2018.
The latest weather and warnings are available on the Bureau of Meteorology's website.