AUDIO NEWS RELEASE: Strong winds for Victoria
03/07/2018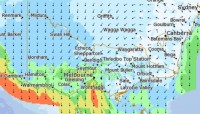 Bureau of Meteorology Senior Forecaster Christie Johnson discusses:
- Damaging winds possible across much of Victoria tomorrow (4/7/18) – Severe Weather Warning issued
- Strong winds to continue for the rest of the week
- Forecast rain/snow
- Conditions in Melbourne over the weekend
Audio is available for download.
This audio is current as of 11am AEST on Tuesday, 3 July 2018.
The latest weather and warnings are available on the Bureau of Meteorology's website.