AUDIO NEWS RELEASE: Strong winds forecast for Victoria (Update)
17/07/2018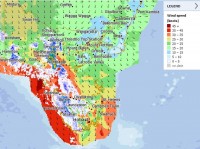 *Update* Bureau of Meteorology Senior Meteorologist Michael Efron discusses:
- Updated information on winds gusts recorded today – including details of dust storm
- What happens next
- Last grab provides details strongest gusts
Audio is available for download.
This audio is current as of 4pm AEST on Tuesday, 17 July 2018.
The latest weather and warnings are available on the Bureau of Meteorology's website.