AUDIO NEWS RELEASE: More windy conditions forecast for Victoria as July comes to an end
31/07/2018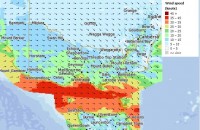 Bureau of Meteorology Senior Meteorologist Dean Stewart discusses:
- More windy conditions tonight – arrival of cold front in Melbourne between 6-8pm
- Windiest July for many areas
- Preliminary snapshot of dry July overall and Melbourne (final figures to come out tomorrow)
- Another windy burst later in the week
- Forecast rain – how much/where
Audio is available for download.
This audio is current as of 3.00pm AEST on Tuesday, 31 July 2018.
The latest weather and warnings are available on the Bureau of Meteorology's website.