AUDIO NEWS RELEASE: Strong winds and fire conditions in NSW
15/08/2018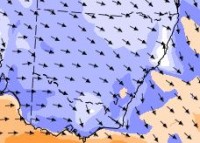 Bureau of Meteorology Meteorologist Simon Louis discusses:
- Fire Weather Warning is current for Illawarra/Shoalhaven, Sydney and Hunter regions. Also warnings in place for damaging winds in some areas.
- Strong winds have developed ahead of a cold front that's expected tonight.
- Strongest gusts recorded today have been in the Illawarra region, over 100km/hr.
- Strong winds and dry conditions are combining to cause very high to severe fire danger conditions.
Audio is available for download.
This audio is current as of 12pm AEST on Wednesday, 15 August 2018.
The latest weather and warnings are available on the Bureau of Meteorology's website.