AUDIO NEWS RELEASE: Cold start for Melbourne
28/08/2018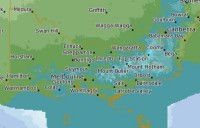 Bureau of Meteorology Senior Climatologist Blair Trewin discusses:
- This morning's 1.9 °C was Melbourne's coldest morning so late in the year, since 1970.
- Melbourne Airport's -0.4 °C was the sites coldest in August since -0.8 °C on 5 August 1997.
- Coldest in the State this morning was -9.3 °C at Mount Hotham (coldest at this site since last August).
If the forecast of 1 degree for tonight is correct, it will be:
- The first instance of consecutive lower than 2 degree nights so late in the season since the 23rd and 24th September 1945 (when the Melbourne site was much less urbanised).
- Potentially the coldest morning so late in season since 1959 (when it dropped to 1.2 degrees on September 2).
Audio is available for download.
This audio is current as of 11am AEST on Tuesday, 28 August 2018.
The latest weather and warnings are available on the Bureau of Meteorology's website.