Bureau of Meteorology committed to improving services for Tasmanians
14/09/2018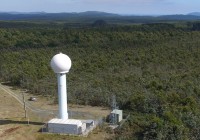 The Bureau of Meteorology wishes to reassure the Tasmanian community that it is absolutely committed to maintaining current staffing levels and improving the services that it provides the state. Claims that staffing and services will decline in Tasmania are false.
The Bureau is planning on changing some of its internal processes and workflows to enable the delivery of more customised and locally tailored information that support the decisions that government, industry and the community make.
Advances in technology will allow our meteorologists in Tasmania to spend more time providing specialised advice direct to Tasmania's emergency services, agriculture, Antarctic, water and energy sectors, as well as to the general public.
Tasmania is a vitally important state for the Bureau. Bureau staff will remain a valued part of the Tasmanian community.
The Bureau will continue to provide trusted, reliable and responsive weather, water, climate and ocean services to Australians – all day, every day.