Fire danger, wind and snow - all in one weekend for NSW and ACT
14/09/2018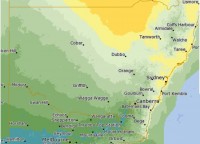 The Bureau of Meteorology is currently monitoring a system which is likely to deliver a weekend of variable and potentially dangerous weather to New South Wales and the ACT.

The strong cold front is expected to:

Saturday
- Trigger elevated Fire Dangers Ratings (including Severe) in sections of NSW
- Lead to significantly above average temperatures for this time of year for sections of northern and eastern NSW
- Produce strong and potentially damaging winds in the Illawarra, southern ranges and the ACT
- Possibly produce severe thunderstorms across parts of northeast NSW.
Sunday
- Produce a major temperature drop that is likely to see many maximums drop from the high 20's and 30's (Sat), to the teens and low 20's
- Bring early snow to the southern ranges above 700 to 800 metres. There is also a slight risk of a light flurry about the Central Tablelands in the early morning.
- Produce strong and potentially damaging winds in the Illawarra, southern ranges and the ACT in the early morning.

The Bureau of Meteorology is urging people to regularly monitor the conditions as the system moves through and is working closely with state and territory emergency services.