Wet Season fast approaching: time to prepare
08/10/2018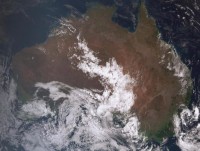 The Bureau of Meteorology has today issued its Tropical Cyclone Outlook for the 2018-19 season, which runs from 1 November to 30 April.
The Bureau of Meteorology's State Manager for Western Australia Mr Mike Bergin said that now is the time for residents across northern WA to begin their preparations and to remain vigilant throughout the season, with the Bureau's computer models suggesting an average to below average number of tropical cyclones this season.
However, the number of expected cyclones is not indicative of the threat to lives and properties, as it only takes one system to significantly impact a community. Nor does the number of expected tropical cyclones indicate just how extensive rainfall can be across northern WA, so people need to be prepared for possible flooding.
Mr Bergin said that "in terms of actual tropical cyclone numbers, last season was close to average with five tropical cyclones in the WA Region with four impacting land areas in the North and West Kimberley. Broome and the surrounding areas received record breaking rainfall, due not only to tropical cyclones but also tropical low-pressure systems which produced widespread and prolonged rain."
"In addition to flooding rains, tropical cyclones can also produce dangerous storm surges and destructive winds" he added.
Fire and Emergency Services Assistant Commissioner Country Graham Swift said the tragic loss of lives last wet season should not be forgotten.
"People often underestimate the life-changing impact a cyclone or flood can have. Complacency can lead to destruction that is not only distressing and expensive, it can sadly be deadly," Assistant Commissioner Swift said.
Communities in the State's north remain at serious risk of the devastation of cyclones and need to prepare now to keep their homes and loved ones safe. Keeping safe is as simple as securing outdoor items like boats or trailers, preparing an emergency kit and taking heed of the community warnings.
Summary of the Tropical Cyclone Seasonal Outlook for Western Australia:
• ~40% chance of an above average number of tropical cyclones in waters off the northwest coast (average number five).
• Likelihood of around two coastal impacts.
• Significant risk of at least one severe tropical cyclone coastal impact during the season.
More information:
• Tropical cyclone warnings and information: www.bom.gov.au/cyclone
• National Tropical Cyclone Outlook: http://www.bom.gov.au/climate/cyclones/australia/
• WA rainfall and river conditions: www.bom.gov.au/wa/flood/
• Alerts and Warnings: www.emergency.wa.gov.au
• Visit the DFES website for more information on preparing for cyclones and floods: www.dfes.wa.gov.au/safetyinformation/cyclone/Pages/publications.aspx
Know your weather. Know your risk. Get all the latest forecasts and warnings at bom.gov.au or the BOM Weather app.