Bureau launches its 2018/19 Antarctic expedition
24/10/2018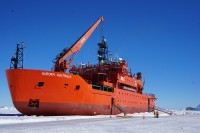 Fourteen excited Bureau recruits are heading to Antarctica from today as part of the Bureau of Meteorology's 2018–19 Antarctic expedition.
Four of the recruits boarded the first flight of the season this morning as part of the annual expedition that sends meteorologists, weather observers and technical engineers to the icy continent to undertake key operational functions, including identifying trends for short and long-term forecasting.
"The work we do in Antarctica is absolutely essential to Australia and the world," Antarctic Meteorology Manager, Scott Carpentier, said.
"Every year I am impressed with what we are doing in Antarctica. How exceptional our staff is, and how important our work is in understanding not only what has happened but what may happen.
"The work we do daily allows us to provide key forecasts for a range of summer services, such as field trips by expeditioners down there, and marine forecasts and aviation, but we are also adding long-term value to the weather story.
"Forecasting and studying weather in Antarctica – humidity, air temperatures, wind patterns and such – is absolutely vital in identifying Australia's weather patterns and also the world's."
This year's expedition will see meteorologists, observers and engineers from Tasmania, Victoria, New South Wales, Queensland and Northern Territory living and working at one of four Australian stations in Antarctica (Casey, Davis, Mawson) or sub-Antarctica (Macquarie Island).
Meteorologists have been recruited for four-month summer assignments, while observers and engineers will carry out a 12-month overwinter assignment.
ENDS…
Note: Raw video interviews of an expeditioner from each participating state, as well as the Antarctic Meteorology Manager, are available via the link below. Please take whatever grabs you need from these interviews. Videos feature:
Scott Carpentier, Antarctic Meteorology Manager since 2013
Debra Holmes, TAS meteorologist, 2nd trip to Antarctica
Kenneth Cheung, VIC meteorologist, 1st trip to Antarctica
Liam Carroll, QLD observer, 2nd trip to Antarctica
Craig Butsch, NT observer, 2nd trip to Antarctica
Patrick Collins, NSW Navy meteorologist, 1st trip to Antarctica.
To access these videos, please click here: https://www.dropbox.com/sh/8fsvctd84trvkh1/AAATplegEP-rduUB8-YlIn6Sa?dl=0