AUDIO NEWS RELEASE: Two strong weather systems set to hit eastern Australia
11/12/2018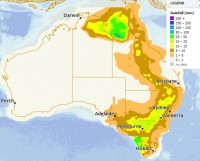 Meteorologist, Grace Legge, from the Bureau of Meteorology's Extreme Weather Desk: Hello from the Bureau, here with an update on Ex-Tropical Cyclone Owen and the risk of it intensifying into a cyclone in the Gulf of Carpentaria.
Owen has moved into the Gulf of Carpentaria last night and we can see thunderstorms are now wrapping around the system. Due to the warm sea surface temperatures which it is taking energy from we could see the system gain new life and be re-named tomorrow.
The current track shows Owen moving west through the Gulf and becoming a category 1 system tomorrow morning, after which it may rapidly intensify as its likely to make a u-turn back towards Queensland. There is also a risk of it becoming a severe tropical cyclone as it stays over the water, with sustained winds of 120km/hr near the centre of the system.
The grey area shows other tracks the systems may take and due to these possibilities a warning in orange is current from Cape Shield in the NT to Burketown in Qld, including both Groote and Mornington islands. This we may see gale force winds of 64km/hr and greater within the next 24 hours.
Owen may also be bringing significant rainfall through areas of the Gulf of Carpentaria as it tracks across. The heavier falls will be dependent on the movement and position of the system as well as where the bands wrap around it. 24 hour totals of 25-50mm are likely through the coastal areas with heavier falls of 50-100mm possible. If the system does track closer to land, we could see those numbers increase.
Rainfall may extend through Queensland if the system tracks inland, bringing that tropical moisture with it.
For those affected please keep up to date with the latest watches and warnings on our website or app and please follow any advice from your local emergency services.
Audio is available for download.
This audio is current as of 3.00pm AEST on Tuesday, 11 December 2018.
The latest weather and warnings are available on the Bureau of Meteorology's website.