AUDIO NEWS RELEASE: Victorian rain update
13/12/2018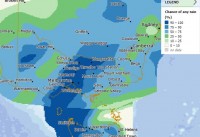 Senior Meteorologist Rod Dickson from the Bureau of Meteorology discusses the following points:
- Highest rainfall totals until 9am
- Melbourne area totals so far
- Expected rain for the remainder of today
- Potential for more storms today-
- Likelihood of rain tomorrow
- What is causing the heavy rain
Audio is available for download.
This audio is current as of 10.00pm AEST on Monday, 13 December 2018.
The latest weather and warnings are available on the Bureau of Meteorology's website.