AUDIO NEWS RELEASE: Rainfall in Victoria
14/12/2018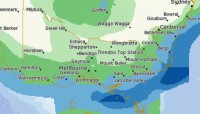 Senior Meteorologist Peter Newham from the Bureau of Meteorology Victoria discusses:
- Wrap up highest rainfall totals across Victoria, over the past 2 days
- Which daily December and annual records broken
- Likelihood of rain for the rest of today/where
- Updated Severe Weather Warning
- Weekend weather outlook
Audio is available for download.
This audio is current as of 11am AEDT on Friday, 14 December 2018.
The latest weather and warnings are available on the Bureau of Meteorology's website.