AUDIO NEWS RELEASE: Victoria's forecast all the way to Boxing Day
19/12/2018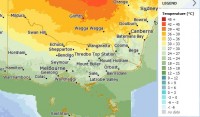 Senior Meteorologist Richard Carlyon from the Bureau of Meteorology discuses:
- Muggy, unsettled weather today
- Wet weather on Friday, especially during the afternoon
- Xmas Eve and Xmas Day outlook
- Boxing Day outlook
Audio is available for download.
This audio is current as of 10.00am AEDT on Wednesday, 19 December 2018.
The latest weather and warnings are available on the Bureau of Meteorology's website.