Enhancing clean energy supply through Hydro Tasmania and Bureau of Meteorology partnership
20/12/2018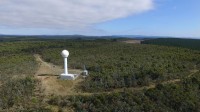 Hydro Tasmania will be able to better harness and supply clean energy to Tasmania and the nation through a new partnership with the Bureau of Meteorology.
The strategic relationship agreement, which comes into effect from today, will see the Bureau's expert local meteorologists provide Hydro Tasmania with regular, tailored weather information to support its operations.
This additional insight will allow the clean energy generator to better supply energy to Tasmanian households and businesses as well as into the national energy grid.
For instance, providing tailored information about imminent extreme rainfall events or the long-term likelihood of significant rainfall can help Hydro Tasmania better make decisions about water management.
The benefits of the partnership apply not only to Tasmania – for example, when mainland states and territories are impacted by heatwaves, additional insight regarding national weather conditions will allow Hydro Tasmania to consider how it can best support the national electricity needs.
Under the partnership, the Bureau's climatologists will also provide specific advice around the long-term climate outlook and analysis of historical conditions.
Bureau of Meteorology CEO Andrew Johnson said the tangible impacts of weather and climate on energy demands would be better managed through the new partnership.
"Through this partnership, the Bureau's expert local meteorologists will provide Hydro Tasmania's teams with the latest weather information as well as greater insight and analysis of the long-term climate outlook," Dr Johnson said.
"This partnership is one of the many ways the Bureau of Meteorology will continue to use both its local and national staff to improve services to Tasmania and, ultimately, the nation."
The collaboration is another step towards Tasmania's ambitious plan to become the renewable Battery of the Nation and the Bureau's strategic goal to enhance the impact and value of its services to the Australian community.
Click here to access Hydro Tasmania's media release about the partnership.