AUDIO NEWS RELEASE: Victoria's forecast for Christmas and Boxing Day
24/12/2018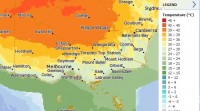 Senior Meteorologist Beren Bradshaw from the Bureau of Meteorology Victoria discusses:
- Temperatures set to soar across the north
- Potential for record breaking runs of 40+ days in some areas
- Cooler conditions across the south/Christmas & Boxing Day forecast for Melbourne
- Temperatures on the rise again across the south
- Reminder to keep cool and care for others during heatwave conditions
Audio is available for download.
This audio is current as of 11am AEDT on Monday, 24 December 2018.
The latest weather and warnings are available on the Bureau of Meteorology's website.