AUDIO NEWS RELEASE: National weather wrap for Christmas Day and beyond
24/12/2018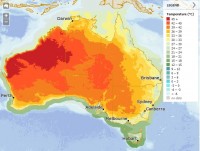 Senior Meteorologist, Tony Nguyen from the Bureau of Meteorology discusses:
- the national weather forecast for the coming days
- what each capital city can expect on Christmas Day
- the heatwave that's moving eastward
Audio is available for download.
This audio is current as of 11am AEDT on Monday, 24 December 2018.
The latest weather and warnings are available on the Bureau of Meteorology's website.