AUDIO NEWS RELEASE: Hot conditions for Tasmania
02/01/2019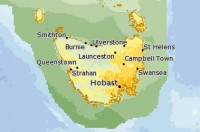 Senior Meteorologist Luke Johnston from the Bureau of Meteorology Tasmania discusses:
- Hot conditions on Friday
- Temperatures reaching mid-30s in the east and southeast
- Most fire districts will be Very High on Friday, Severe for Upper Derwent Valley and south east.
- Fire Warning may be updated in parts of the south east depending on the timing of a cool change.
Audio is available for download.
This audio is current as of 10.30am AEDT on Wednesday, 2 January 2019.
The latest weather and warnings are available on the Bureau of Meteorology's website.