Get your entries in for this year's Australian Weather Calendar competition
17/01/2019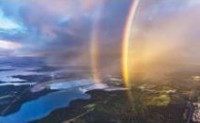 If you've got an amazing weather photo the world should see, time is running out to enter it into the Bureau of Meteorology's 2020 Australian Weather Calendar competition.
For 35 years, the Bureau's Australian Weather Calendar has become a much-loved tradition, showcasing our country's best weather images. Winners have had their photos displayed in homes, schools and offices across Australia and more than 80 countries around the world.
Bureau meteorologist Jenny Sturrock said this year judges were on the hunt for 13 captivating and unique images that capture our diverse and at times dramatic weather and natural landscape.
"The 2019 calendar included some stunning meteorological events. We saw photos from all over the country, everything from the wet season in the Northern Territory to ice halo's at Australia's Davis Research Station in Antarctica," Jenny said.
"We love to see photos from every corner of the country and I can't wait to check out some of the winning images."
But time is running out to get those entries in – the competition closes at the end of March.

PICTURES: Some of the incredible photos features in the 2019 Australian Weather Calendar (L–R: Andy Smith Photography; Leanne Osmond, Leeo Photography; Jenny Feast Photography)
Don't worry if you haven't captured that breathtaking photo just yet – help is at hand.
This Friday the Bureau will be running a Facebook Live event with Andrew Thomas, one of last year's winners, who will be answering all of your weather photography questions.
For those more interested in the weather phenomena in the photos, Jenny Sturrock will also be on hand to explain the science behind some of nature's incredible shows.
To take part in the Facebook Live event, simply check out the Bureau's Facebook page at 1pm AEDT this Friday (January 18).
And remember – there's still enough time left in the year to make use of the Bureau's 2019 Weather Calendar. But be quick, they're selling fast. Go to shop.bom.gov.au.
For more details on how to enter your photos in the 2020 Australian Weather Calendar competition head here.
More information on the Australian Weather Calendar competition can be found here.