Monsoonal conditions developing across far north Queensland
23/01/2019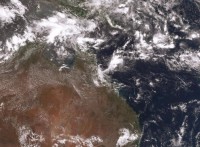 The Bureau of Meteorology has issued a Severe Weather Warning for the northern Cape York Peninsula and Torres Strait Islands with heavy rainfall, damaging winds and abnormally high tides the main impacts.
Water levels on today's high tide could exceed the highest tide of the year for some islands.
Concurrently a Flood Watch has been issued for northern Cape York Peninsula catchments, with the Flood Watch area likely to be extended further south during the coming days.
The monsoon trough lies over the far northern Gulf of Carpentaria, Cape York Peninsula and the northwest Coral Sea and will remain active well into the weekend.

Areas of heavy rainfall and thunderstorms are likely to increase over far north Queensland coastal districts including Port Douglas and Cairns during the Australia Day long weekend with heavy falls possible for areas which have already received significant rainfall and flooding over recent weeks.
With riverine and flash flooding are possible, visitors to the area are urged to familiarise themselves with local roads and conditions.
The low on the monsoon trough is expected to deepen, bringing heavy rainfall to northern Cape York Peninsula catchments, extending into the Gulf and far north Queensland coast.

The chance of a cyclone developing in the Gulf will increase in the coming days. See the outlook below for the latest analysis: www.bom.gov.au/nt/forecasts/tcoutlook.shtml
See Bureau of Meteorology Weather Warnings and Cyclone information for updates during the long weekend.