WEATHER UPDATE: Tropical cyclone Riley and developing tropical low in the Gulf
24/01/2019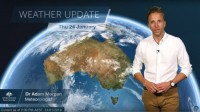 Senior Meteorologist, Dr. Adam Morgan, from the Bureau of Meteorology: Hello again. What a contrast we're seeing this week, with record-breaking heat across southern Australia and the monsoon arriving, finally, across the tropics.
We do see these situations, though, from time to time—where the monsoon, tropical lows and tropical cyclones in the north coincide with heatwaves further south.
The monsoon arrived earlier this week across the northern Top End, bringing welcome rain after the long, uncomfortable Build Up season of hot and humid days.
In the past 24 hours Darwin has seen over 50 mm of rain and there's more on the way today.
Along the monsoon trough we've got two main weather systems we're watching:
Out west, tropical cyclone Riley formed off the north west WA coast early this morning and is currently a Category 1 system around 195 km to the northwest of Broome.
Riley should track almost parallel to the coast, and with conditions in the atmosphere favourable for cyclone development, we expect Riley to reach Category 2 intensity this evening and then Category 3 (severe tropical cyclone strength) by late Friday or during Saturday.
A Cyclone Watch area is current along the Pilbara coast between Whim Creek and Onslow, including Karratha and Dampier, for the risk that gales may develop on Saturday morning if the cyclone takes a more southerly track within that grey shaded area shown.
At the same time, in Queensland, we've also got our eye on a tropical low over the northeast Gulf of Carpentaria.
Like most weather systems in this part of the world, this one is proving quite erratic—with a range of scenarios still on the cards for how it may intensify and move over the next few days.
We're currently rating this system as a moderate chance (that's a 20–50 per cent risk) of developing into a tropical cyclone from Friday.
Once again, conditions in the atmosphere remain favourable for cyclone development, so whether or not it does become a cyclone really all depends on whether the system remains offshore or takes a track over land.
With the tropical low as it is now, and active monsoon conditions, there's a Severe Weather Warning current for heavy rainfall and damaging winds for the Peninsula district, and parts of Gulf Country and North Tropical Coast and Tablelands.
We've also issued a Flood Watch for the Cape York Peninsula, Eastern Gulf and North Tropical Coast catchments, with heavier rain areas extending southward over the weekend with the movement of the low.
So stay tuned to the Bureau for cyclone and severe weather warning updates as we head into the Australia Day long weekend.
Stay in touch with us on social media and please follow all advice from emergency services.