Weather update: Tropical cyclone Riley off the WA coast, and tropical low in the Gulf
25/01/2019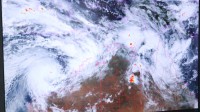 Meteorologist Grace Legge from the Bureau of Meteorology's National operations Centre: Hello, we've seen the monsoon develop in the north and we're currently tracking two tropical systems. The first is off the WA coast which is tropical cyclone Riley, which is currently tracking parallel to the Pilbara coast.
We have a WATCH out for any gales that form in the outer bands of the system that may affect the coastal areas, and they may also see some squally thunderstorms develop. But as the system pulls away much of the weather will go with it.
The second system is in the Gulf of Carpentaria where we saw a low move over water and has the risk of developing into a tropical cyclone later today or into tomorrow. A cyclone WATCH and WARNING is current for parts of the Gulf.
We may also see quite heavy rainfall with this system through large areas of northern Queensland, where we could see heavy rainfall that results in riverine flooding and flash flooding through some areas.
If you're in the tropical north keep an eye out for any warnings that may be issued for your area and listen to all advice given by the emergency services.