Weather update: Tropical cyclone Riley off the WA coast, and tropical low in the Gulf
26/01/2019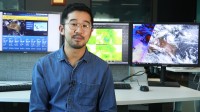 METEOROLOGIST, JONATHAN HOW: Hello from the Bureau, where our forecasters are keeping a very close eye on the tropics, in particular there are two weather systems that we've been monitoring very closely.
The first one is Tropical Cyclone Riley, which is currently a category 2 system, sitting off the Pilbara coast. And you can see that big white mass of cloud as the Sun came up this morning. It will continue to move parallel to the coast and remain quite far off shore. However, there is still a chance we could see some gusty winds developing for western communities along the Pilbara coast. So places such as Dampier, Karratha and Exmouth. So if you are in the area there do keep an eye out for any Watches or Warnings that may go out in the next few days.
The second system that we're keeping a close eye on is currently sitting over the northern Queensland coast. It is a low pressure system sitting in the Gulf, and it's just moved over land. And at this stage it is less likely to form into a tropical cyclone. However we are still going to see very heavy rainfall and damaging winds as a result of this system.
And looking at the weather models here, there is a little bit of uncertainty. So here at the Bureau we look at quite a few different weather models and at the moment they are showing slightly different scenarios as to where that low will be, and also how far south the monsoon trough will move.
What we are more certain of though, is that it will be a very wet few days for northern Queensland and we could see moderate to major flooding for some river systems. Particularly for communities along the Gulf coast such as Burketown and Normanton, as well as along the east coast in place such as Cairns and Townsville. And we could see daily totals in excess of 300 mm to 400 mm. And so we do have a number of Flood Watches out, as well as a Severe Weather Warning for damaging winds and heavy rainfall.
So with quite a lot happening across northern Australia at the moment, if you are across the western Pilbara or across northern Queensland, it is important to stay in touch with any forecasts and warnings from the Bureau, and to always listen to the advice of your local emergency services.