Weather Update: Monsoon rains in northern Queensland
30/01/2019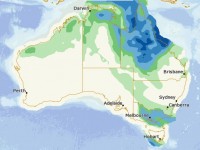 METEOROLOGIST ADAM MORGAN: Hello again. Tropical north Queensland is in for more very wet weather over the coming days as the monsoon continues to strengthen, on the back what's already been a very soggy start to 2019.
Many roads are currently cut off and rescue teams are on the ground preparing for further heavy rain and flooding.
This morning, flood warnings ranging from Minor to Major are in place for several river systems between Cairns and Mackay; and a Flood Watch remains current for coastal catchments from Daintree to Mackay, parts of the western Cape York Peninsula and the eastern Gulf of Carpentaria.
We've also got a Severe Thunderstorm Warning current this morning just to the west of Townsville, there, for heavy rainfall.
In the past 24 hours the stretch of coast between Cairns and Mackay has again seen the heaviest totals, with 375 mm at Sandy Plateau the highest recorded.
Weekly totals are now in the range of 500–700 mm in many places, and some locations along the north tropical coast are now pushing towards a metre of rain for the month of January.
The monsoon trough extends from a tropical low near the southern Gulf of Carpentaria across to the eastern tropical coast of Queensland near Cairns.
Winds turning clockwise around the low are pushing a whole lot of tropical moisture from the Coral Sea right along the coast.
Rainfall totals of 100–200 mm are likely along the coast between Cardwell and Mackay for the rest of today. We're also seeing areas of rain spread further inland into central, western and northwestern Queensland.
The situation isn't expected to change a great deal over the coming days, as that low remains fairly slow-moving over the Gulf Country.
The focus of the rain shifts north to the stretch between Cairns and Townsville … Cairns and Bowen, sorry, on Thursday.
And while we should see the monsoon trough start shifting slowly north during Friday it will coincide with a renewed burst of monsoon winds and heavier rain and thunderstorms—with those heavier falls likely to remain along coastal locations and about the western Peninsula.
As the monsoon strengthens, damaging winds may become a risk across Cape York Peninsula over the weekend, as well as abnormally high tides about the Gulf of Carpentaria coast and through Torres Strait.
Although some computer forecast models do suggest the low to deepen and the possible risk of cyclone development over the Gulf of Carpentaria, the immediate concern over the next few days for north Queensland communities is that very heavy rainfall.
We may even see some isolated totals along the coastal stretch in excess of 250 mm going forward from today.
So as the rain falls and the rivers rise, follow all advice from emergency services and stay up to date with weather and flood forecasts and warnings on the Bureau's website, app and social media.