Update on the active monsoon heavy rainfall and flooding in northern Queensland
01/02/2019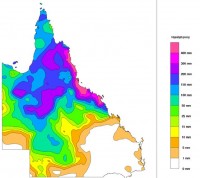 The Bureau of Meteorology is warning communities in Queensland's north to prepare for further widespread heavy falls and flooding over the weekend and well into next week as the monsoon trough continues to influence weather across the tropics.
Queensland Flood Services Manager Victoria Dodds said the focus continues to be on the Townsville area which has already received extraordinary rainfall over the past week.
"A number of sites including Upper Bluewater [1230mm], Paluma [1181mm], Upper Black River [1034mm] and Woolshed [1008mm] have recorded more than a metre of rainfall over the past seven days [to 9am this morning]."
"A Major Flood Warning has been issued for the Ross and Bohle Rivers where record flood levels are being recorded at Aplin Weir on the Ross River. Flooding of properties in low-lying areas is expected as early as this afternoon.
"Other areas of immediate concern include the Haughton River, south of Townsville, where we saw record flood levels reached at Major Creek earlier this morning," she said.
The Flood Watch area covers a huge stretch of the state including coastal catchments from Daintree to Mackay, which includes Cairns, Townsville, and also parts of western Cape York Peninsula and Gulf. We are now beginning to see flooding emerge across the Gulf.
"We are looking at the monsoon remaining active across north Queensland well into next week with the potential for further flash flooding. A number of roads are already impassable and swift-water rescue teams have been engaged where members of the community have either travelled through floodwaters or become trapped in rising waters.
"We are urging members of the community to always follow the advice of local emergency services—and never endanger your or your passengers' lives by entering flood waters."
Queensland Fire and Emergency Services (QFES) Commissioner Katarina Carroll urged the community to remain alert.
"It can be extremely dangerous on the roads in these affected areas," Ms Carroll said.
"Please stay off the roads to allow emergency services to reach those in need and to ensure you stay safe. It is important to continue to listen to authorities as dangers persist from potential flash flooding.
"If you require SES assistance, call 132 500. If the situation is life threatening, you should call Triple Zero (000) immediately."
Increasing monsoonal winds are forecast for the Gulf waters and Torres Strait Islands and are likely to cause tides to exceed the highest of the year, with coastal inundation possible during the weekend.
See Bureau of Meteorology Weather Warnings for updates.