Cyclone Oma to approach the southeast Queensland coast this weekend
21/02/2019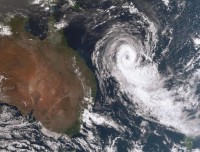 Tropical Cyclone Oma formed in the Fijian area of responsibility and is forecast to approach the southern Queensland coast this weekend.
The 11am (AEST) track map just issued shows the system moving closer to Queensland and into the Bureau's area of responsibility. A Tropical Cyclone Watch is now in place covering the coast from Bundaberg in Queensland to Ballina in northern New South Wales.
Queensland State Manager Bruce Gunn said the effects of Cyclone Oma are already being felt along the Queensland coast with warnings in place for higher than normal tides and dangerous surf conditions developing south of Seventeen Seventy causing coastal erosion for exposed beaches.
"Surf and swell conditions will be hazardous for coastal activities such as rock fishing, boating, and swimming and many beaches are already closed for public safety," he said.
Seas and swell are also expected to increase well ahead of the approach of Cyclone Oma, and these conditions present a danger for even the most experienced swimmers and surfers—so it's safest to stay out of the water.
"Forecast certainty is shaping up to see the most likely scenario that Cyclone Oma will approach the coast this weekend, and a coastal crossing cannot be ruled out at this stage.
"Gale force winds are possible for exposed coastal beaches, combined with heavy rainfall. The Bureau has issued a Flood Watch from Gladstone to the New South Wales border. Forecast rainfall totals are largely dependent on the cyclone track, and there still are a wide range of scenarios at this point," said Mr Gunn.
While it is unusual for a cyclone to track this far south, it is not unprecedented. Each tropical cyclone is unique and it is difficult to make historical comparisons.
Cyclone Nancy (1990) was the last cyclone to directly impact Brisbane, although it did not make landfall but rather grazed the coast near Byron Bay before moving offshore. The main impacts were coastal erosion and flooding for Gold Coast beaches and the adjacent Hinterland.
Schedule: Track maps will be updated every six hours. If Tropical Cyclone warnings are required, the updates will be issued every three hours.
See Warnings for the latest track maps and updated warnings: www.bom.gov.au/qld/warnings