VIDEO: Potential for heavy rain over eastern New South Wales
13/03/2019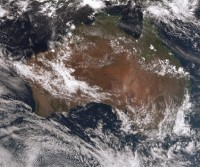 Meteorologist, Diana Eadie: Hello from the Bureau of Meteorology. We're here to talk about the potential for heavy rain over eastern New South Wales during this next week.
We're expecting showers and storms to increase over eastern parts of New South Wales and southeast Queensland over the coming days as a coastal trough deepens, dragging humid air down from the tropics. A number of short-lived low-pressure systems are expected to develop along the trough near the New South Wales coast, acting as a focal point for showers and severe storms and possibly locally heavy rainfall.
The first of these is expected to develop near Sydney tomorrow. Showers and storms will become more frequent through the day over parts of central New South Wales, tending to rain by evening. Intense rainfall rates may make roads and watercourses dangerous and cause damage to property, so make sure you keep an eye out for any Severe Weather Warnings and Severe Thunderstorm Warnings which may be issued.
From Friday, the heaviest of the rainfall will shift further to the north. Severe thunderstorms may produce locally very heavy rainfall, and large hail and damaging winds are also a risk.
Showers and storms are likely to continue to impact parts of eastern Australian into next week as the system stalls about the coast.
That's all for now. Keep up to date with our latest forecasts and warnings on our website, or on social media, and follow the advice of your local emergency services.