WEATHER UPDATE: Developing tropical low to the north of WA
05/04/2019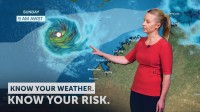 Meteorologist, Andrea Peace: Hello from the Bureau. We continue to monitor the tropical low to the northwest of the Top End. It's been tracking slowly west southwest into the Timor Sea, taking the more severe weather away from the Northern Territory.
Development of the system has been slow over the last 24 hours because winds in this area have been unfavourable, however today it is expected to move further west into an area that is more conducive to cyclogenesis and the current expectation is that it may develop into tropical cyclone Wallace later tonight or in the early hours of Saturday morning, north of the Kimberley coast.
A warning has been issued for coastal communities between Kalumburu and Cockatoo Island. There is potential for gales with gusts to 100 km/hr to develop about the exposed coasts in this region from late tonight or early Saturday, if the system is to track further south than expected.
And then the gales may extend further to exposed coastal parts from Cockatoo Island to northern parts of the Dampier Peninsula from Saturday afternoon.
The system is expected to develop further across the weekend.
At this stage the most likely path is to the west southwest, away from the Western Australian mainland, however this grey shaded area shows a range of possible tracks and shows that there remains potential for the system to approach the west Pilbara coast early next week.
The movement of the system will become clearer over the weekend…
…so it will be best to keep checking the Bureau website or app for the latest forecasts and warnings, you will also be able to get updates via our social media channels.
And as always, please follow any advice from your local emergency services.