AUDIO NEWS RELEASE: A warm & dry week ahead for Victoria
20/05/2019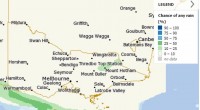 Senior Forecaster, Rod Dickson, from the Bureau of Meteorology in Melbourne, discusses the week ahead, including:
- Melbourne, and most of Victoria, is forecast to see maximum temperatures of 20 degrees or higher for the remainder of this week.
- That would mean a run of 8 consecutive days of 20 °C or above in Melbourne, which has only been recorded five times before.
- The most recent such occurrence in Melbourne was in May 2014, when there were 10 days of 20 °C or above (from 13-22 May).
- The next rainfall expected for Victoria will not be before Sunday.
Download audio here (current at 11am on 20/5/2019)