AUDIO NEWS RELEASE: Cold front with potentially damaging winds forecast for Victoria
09/07/2019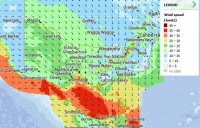 Senior Forecaster Keris Arndt discusses the cold front forecast for Victoria on Wednesday, including:
- Significant cold front to extend across Vic.
- Potential for damaging winds tomorrow
- Where rain is forecast to fall
- Good falls of snow likely
- Large waves possible across coast, especially across the s/w
- Weekend outlook
Download audio here. Current as of 12pm AEST 9/7/2019.
For the latest weather and warnings go to: http://www.bom.gov.au/vic/forecasts/ and http://www.bom.gov.au/vic/warnings/