AUDIO NEWS RELEASE: Cold fronts to continue impacting Victoria
11/07/2019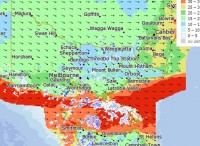 Meteorologist Rod Dickson from the Bureau of Meteorology Victoria discusses Victoria's weather including:
- Strong wind gusts and thunderstorms as a cold front moved across the state overnight.
- Potentially damaging winds in the coming days most likely about alpine and coastal areas.
- Temperatures significantly below average for the coming days.
- Snowfall across alpine peaks in the coming days.
Download audio here. Current as of 10:30am AEST.