Victoria's windy weather ahead
17/07/2019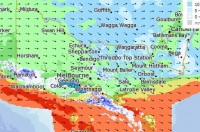 Senior Meteorologist Richard Carlyon from the Bureau of Meteorology discusses the forecast for Victoria, including:
- Updated Severe Weather Warning and what it means for the Melbourne area.
- Timing of showers/winds in the Melbourne area.
- Places likely to experience potentially damaging winds this afternoon.
- Windy conditions expected on Saturday.
Download audio here. Audio current at 11.30am AEST on 17/7/2019.
For the latest weather and warnings go to: http://www.bom.gov.au/vic/forecasts/ and http://www.bom.gov.au/vic/warnings/