AUDIO NEWS RELEASE: Severe weather warning and heavy rain for Tasmania
05/09/2019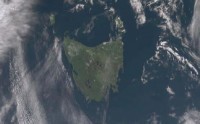 Bureau of Meteorology Tasmania meteorologist, Alex Melitsis, discusses upcoming severe weather for Tasmania. Audio can be accessed here.
Alex is discussing the following points, current as of 10:30am AEST on 05 September 2019:
- Severe Weather Warning has been issued for heavy rainfall and damaging winds on Friday.
- Totals of 40–80 mm are forecast across eastern Tasmania, with in excess of 100 mm possible in elevated areas.
- A Flood Watch will be issued today for the North East, Derwent, South East and Huon catchments.
- Strong winds with gusts around 80–90 km/h are possible along the eastern coastal areas.