AUDIO NEWS RELEASE: Wet and windy weather on the way for Victoria
05/09/2019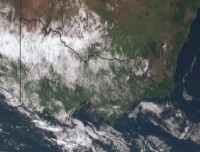 Senior Meteorologist, Michael Efron, from the Bureau of Meteorology Victoria discusses forecast severe weather across the state. Interview can be accessed here.
Michael is covering the following points, current as of 2.30pm on 05 September 2019:
- Severe Weather Warning for Damaging Winds will be issued later this afternoon for Friday into Saturday
- 2-Day rainfall totals (Friday, Saturday) include: 10-20 mm central and eastern Vic, up to 40 mm west and south Gippsland and east central districts
- Cold winter conditions with cooler temperatures, thunderstorms and hail forecast in coming days
- Wet and windy conditions for Melbourne's qualifying Grand Final match on Friday
- Cooler conditions will persist into early next week.