BOM staff say good-bye to Aussie summer as the Antarctic season kicks off
25/10/2019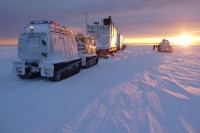 Why spend your summer relaxing at the beach when you can spend it among the ice-cold wonders of Antarctica, at least that's what the Bureau of Meteorology's 2019–20 Antarctic expeditioners think.
This year's successful applicants are swapping their shorts for padded outwear and beanies as the Bureau officially launches its Antarctic expedition on Friday, 25 October.
The annual expedition will send 12 applicants to Casey, Davis, Mawson or Macquarie Island where they will provide essential forecasting and monitoring services.
But it is not just the warmer weather that they will be leaving behind.
"It's not just the training and professional preparation that our staff need to consider – there is also a lot of personal preparation that goes into undertaking a placement in Antarctica," Antarctic Meteorology Manager, Scott Carpentier, said.
"It is definitely hard to pack up your life, say good-bye to friends, family and pets, and then spend months in a fairly isolated and extreme environment, but the work we do down there is vital.
"We ensure the safe and efficient running of all the activities that happen around each of the bases, such as the many scientific field trips, marine navigation, and fixed wing and helicopter flights.
"But it's not just the short-term. Climate monitoring is also incredibly important as the long-term monitoring of Antarctica's weather allows us to identify weather patterns for Australia and the rest of the world.
"It is a pretty tough assignment and I'm always proud to see how dedicated our staff is."
The 13 expeditioners have been chosen from all Australian states and territories for this year's Antarctic expedition.
Forecasters will undertake placements of around four months covering the summer period, November to March, while observers and technicians will remain in Antarctica for 12 months to cover the winter period.
Crew heading to Casey will take a 4.5 hour flight to Wilkins Aerodrome then travel for another four hours on a terra-bus to reach base, while expeditioners travelling to Davis, Mawson and Macquarie Island will undertake a 14-day voyage onboard the Aurora Australis.
The voyage on Friday will see seven of the 13 applicants sail for Davis Station, with the remainder to fly out or sail in the coming weeks.
DOWNLOAD AUDIO & IMAGES including:
Jackson Browne from BOM's Darwin office and Rachel McInerney from BOM's Hobart office discussing their first trip to Antarctica
ENDS…
For more information on forecasting in Antarctica: http://media.bom.gov.au/social/blog/1577/frozen-forecasts-meteorology-in-antarctica/