Severe Weather Update: Severe to Catastrophic fire danger in NSW & Qld, 12 Nov. 2019
12/11/2019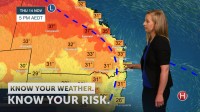 Meteorologist, Andrea Peace: Hello again from the Bureau. Large areas of New South Wales and Queensland are experiencing Severe to Catastrophic fire conditions today.
A significant front is currently moving up the New South Wales coast with some of the most dangerous conditions likely to be between 5 and 8 pm tonight. Ahead of the front we're seeing very hot, dry and gusty winds. Many locations in the east of the state have recorded northwesterly winds between 60 and 80 km/h and temperatures have pushed into the mid to high 30s.
A southerly wind change associated with the front is forecast to move up the New South Wales coast today and early Wednesday, before moving into southeast Queensland and continuing to push up the coast during the day. The southerly wind is expected to be particularly strong as it moves through Wollongong, Sydney and the Central Coast this afternoon and evening, with temperatures dropping more than 10 degrees in 30 minutes and average winds speeds possibly exceeding 60 km/h.
There is very little respite for New South Wales tomorrow, with Very High fire dangers persisting through these fire-affected areas because the air behind the front is so dry. And in Queensland, Severe fire dangers are forecast for the Wide Bay and Burnett, Southeast Coast and Darling Downs and Granite Belt.

The wind will be quite challenging in Queensland tomorrow and will affect fires differently, depending on where they're located. Inland, we expect to see very hot and dry southwesterly winds, they'll be particularly strong about the border ranges. But along the coastal plains, winds will be from the southeast, they'll be cooler and carry more moisture, but will still be gusty. There is a chance of seeing isolated showers and thunderstorms developing tomorrow about the east and southeast of Queensland, but there's very little rain expected.

Air quality is likely to be poor tomorrow with areas of raised dust developing ahead of the change and smoke areas likely to be carried over the border from New South Wales with those southerly winds. So, with these challenging conditions continuing, please stay up to date with the latest information from the Bureau and emergency service agencies, through their websites, apps and social media channels, and tune into emergency broadcasters.