VIDEO NEWS RELEASE: Norfolk Island Tsunami Alert
05/03/2021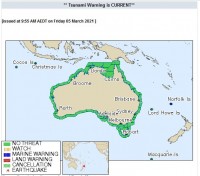 A Video News Release from the Joint Australian Tsunami Warning Centre (JATWC) has been issued, discussing the Marine Threat Alert that has been issued for Norfolk Island.
A marine warning means there is the possibility of dangerous rips, waves and strong ocean currents and some localised overflow into the immediate foreshore, which could continue for several hours.
The talent is Senior Meteorologist Jonathan How, and the warnings were current at 10.00am AEDT on Friday 5 March 2021.
The VNR can be downloaded here.