Norfolk Island tsunami update
05/03/2021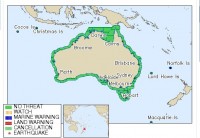 MEDIA STATEMENT – 1245 AEDT – Friday 5 March 2021
A Tsunami Marine Warning remains in place for Norfolk Island following an 7.9 magnitude earthquake north east of New Zealand early this morning. A further aftershock of 6.6 magnitude was recorded at 1013 AEDT at the same location
A marine warning means there is the possibility of dangerous rips, waves and strong ocean currents and some localised overflow into the immediate foreshore for Norfolk Island.
The Joint Australian Tsunami Warning Centre advises there is no current tsunami threat to the Australian mainland or to Lord Howe Island. While small tsunami waves are also expected to arrive along east coast of the mainland in coming hours, they are not expected to be dangerous. Hence there is no warning for mainland Australia or other offshore locations.
The impact of a tsunami has been observed near Norfolk Island.
A sea level gauge at Norfolk Island has recorded a 64 centimetre tsunami wave. Tsunami waves are more powerful than the same size beach wave. It is the power rather than the height that makes tsunami waves so destructive, hence dangerous to swimmers and boaters
Norfolk Island residents are strongly advised to stay out of the water and move away from the immediate water's edge of beaches, marinas, harbours, coastal estuaries and rock platforms.
There could be many waves and the first wave may not be the largest. The threat is expected to persist for several hours.
Police are urging residents not to go to the coast to watch the tsunami.
Boats in Norfolk Island harbours, estuaries or shallow coastal water should return to shore and be secured
Vessels at sea should stay offshore in water at least 25m deep until further advised.
In New Zealand, the warning authority there has assessed that the largest waves have passed and the threat level has been downgraded to a Beach and Marine threat for all areas.
Further overseas, the following tsunami waves have been recorded: Vanuatu (32 centimetres), Fiji (13 centimetres), Cook Islands (8 centimetres) and Tonga (6 centimetres).
The Australian public is advised to check the latest advice on the Bureau's twitter or at www.bom.gov.au/tsunami
An updated Video News Release featuring Senior Meteorologist Jonathan How can be downloaded here.