Final Tsunami Warning Norfolk Island Update
05/03/2021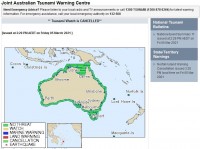 MEDIA STATEMENT – 1440 AEDT Fri 5 March 2021
The Tsunami Marine Warning for Norfolk Island has now been cancelled.

This marks the end of the Joint Australian Tsunami Warning Centre (JATWC)'s response to this morning's 7.9 magnitude earthquake north east of New Zealand and the aftershocks thereafter.

Emergency services on Norfolk Island will advise if and when it is safe to return to normal activity.

Up to 64 centimetre tsunami waves were observed on the Island as well as much smaller tsunami waves being recorded in some areas of the east coast.

Be aware that although the main tsunami threat has passed, small unusual waves, currents and abnormal tides may still affect some beaches, harbours and coastal waterways for many hours or even days.

No further update will be provided unless situation changes.
A final Video News Release featuring Senior Meteorologist Jonathan How can be downloaded here.