First cold front of the season expected over southwest WA
28/04/2021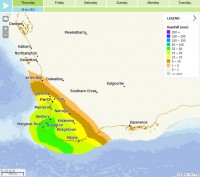 A moderate cold front will pass through the South West Land Division during Thursday afternoon and evening, reaching eastern parts during Friday morning.
The leading edge of the front is expected to lie near the South West Capes about 4pm Thursday and reach southwest of a line from Kalbarri to Denmark at about 8pm.
Falls in the range of 5mm to 40mm are expected, particularly over the South West district and adjacent parts.
Dry and gusty winds ahead of the cold front will increase fire dangers over the Eucla and adjacent parts during Friday.
The latest forecasts and warnings can be found online: http://www.bom.gov.au/wa/
Rainfall so far this month in Perth (April): 23mm
Average rainfall for Perth in April: 35.2mm
Rainfall so far this year in Perth: 102.4mm
Average rainfall 1 Jan to the end of April in Perth is 87.4mm