Don't get caught out: check the weather before you go rock fishing
Rock fishing is a popular recreational activity but it can be risky if you don't comply with safety requirements. In fact, on just a small strip of Sydney's coast, rock fishing has claimed the lives of 17 people in the past decade. To increase safety along the NSW coastline, lifejackets are required by law when you're rock fishing in declared high-risk areas.
Wherever you're planning your rock fishing trip in Australia, it's always important to check the weather and ocean conditions before you go, to help you have a safe and enjoyable experience.
---
Three vital weather safety checks
The Bureau recommends three vital weather safety checks for rock fishers planning their next fishing trip:
Check when it's high tide
Using the Bureau's Tide Prediction portal, review the high and low tide times and consider when mid-tide will occur. In most places, mid-tide occurs around 2–4 hours after low tide. Water levels rise quickest during mid-tide—on the rising tide you could get trapped by water rising over the rocks or swept off the rocks by breaking waves.
Check for large waves
Change your plans if hazardous surf messages (provided in New South Wales and southern Queensland) have been issued by the Bureau or the wave heights are too large. Rock fishers should also expect to experience waves up to twice the height of the average values provided in marine forecasts.
Check for strong winds
High wind speed may make the waves rougher, tangle your lines, or push you off wet, slippery rocks.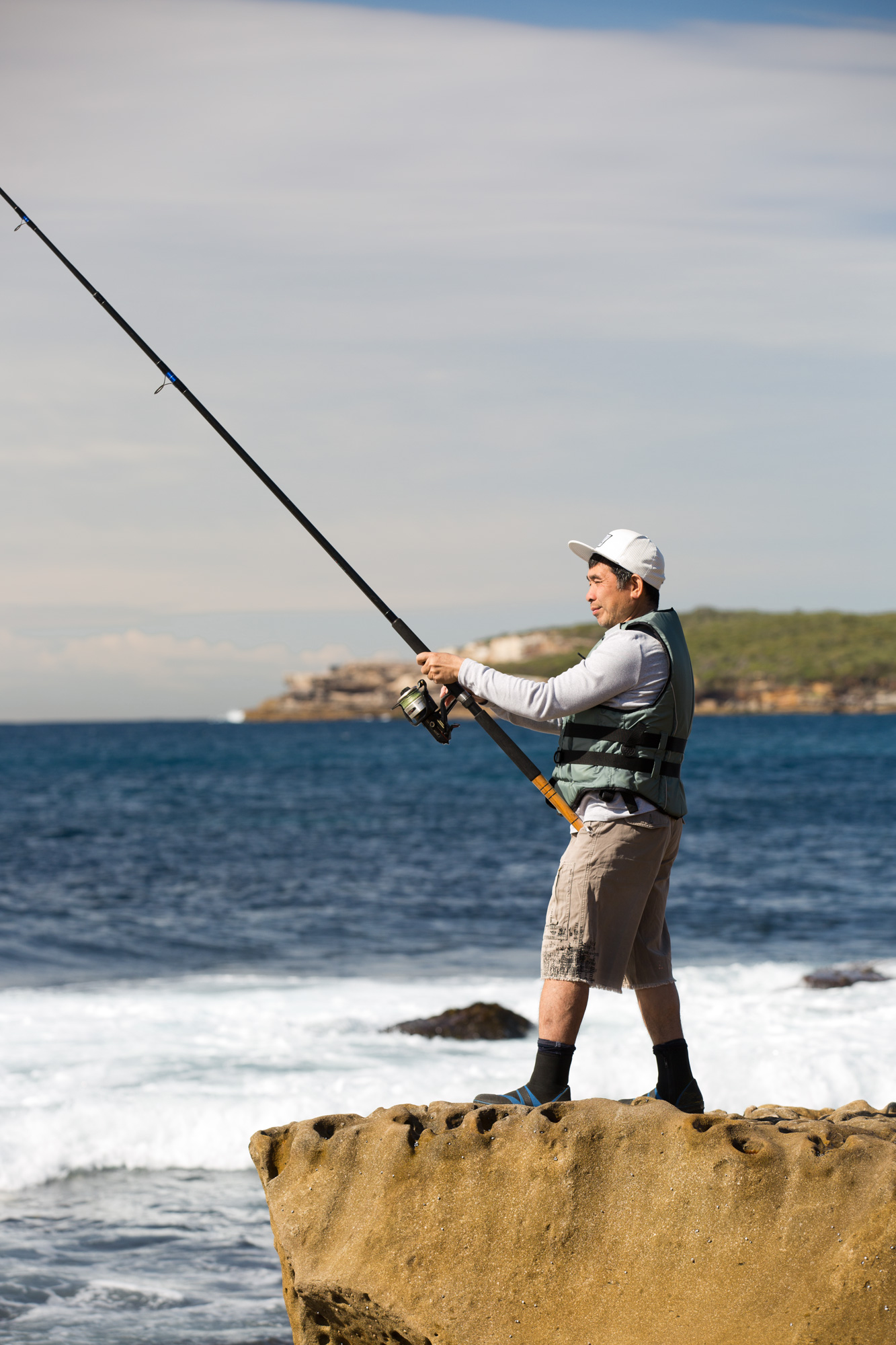 Image credit: LooksFresh Photography. Courtesy of NSW Government.
When to check the weather
Just looking at a small area over a limited time span can blind you to nearby hazardous weather conditions. Reviewing the Bureau's range of Marine and Ocean information over a larger area and over a longer period can help you better understand the risks. Consider changing your plans if dangerous conditions are forecast nearby.
A few days in advance
A few days before your fishing trip, check the extended weather forecast and the tides to help inform where and when might be the best and safest to go fishing. Coastal waters and local waters forecasts provide details of the wave heights, wave direction and wind conditions around Australia for the next four days.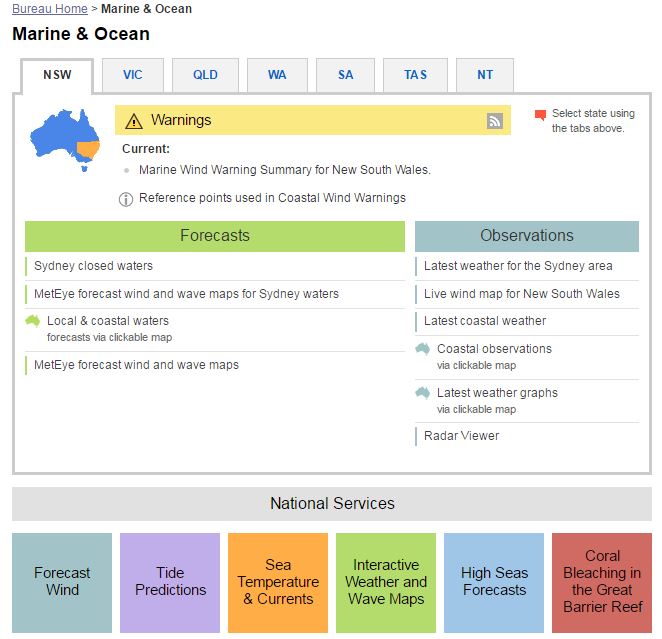 Image: the Bureau's Marine & Ocean Services homepage.
The night before
Use the Bureau's graphical mapping tool MetEye to visualise the weather forecast and zoom to any location. MetEye provides information on the height and direction of different swell conditions, as well as wind waves and total wave height.
Check the tide times to note when the tide is rising. This is when wave conditions can change rapidly and waves can break onto the rocks without warning. Check low and high tide times every time you fish—tide times change every day and vary at different locations.
Review the coastal forecast again for any updated conditions. Hazardous surf messages are included in coastal forecasts for New South Wales and Queensland when wave conditions are expected to be dangerous for rock fishers and swimmers.
You should also check the Bureau's National Warnings Summary page and ensure there are no warnings in place that might impact the area you plan to go fishing. The Bureau issues Marine Wind Warnings for coastal waters whenever winds reach 26 knots and above. Severe Weather Warnings may also be issued for abnormally high tides, damaging winds and/or damaging surf.
For more information read our guide on how to use MetEye for rock fishing.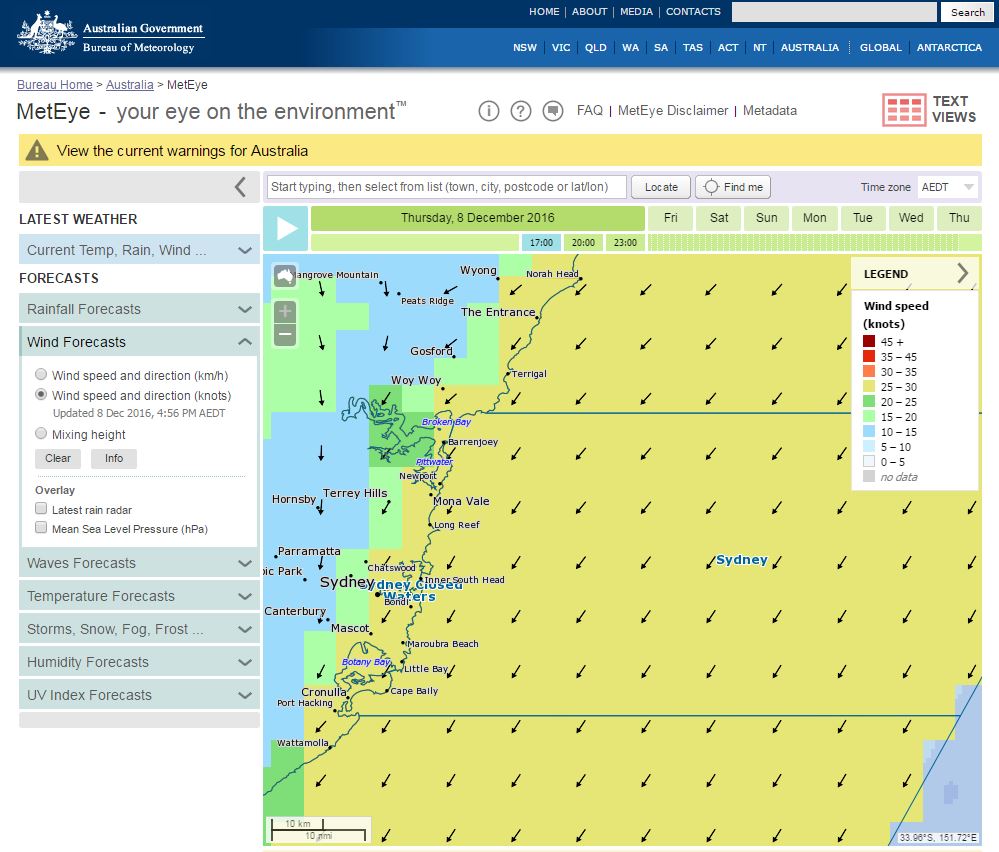 Image: check MetEye forecast wind and wave maps.
On the day
When you're out, the Bureau's free mobile app 'BOM Weather', can be used to check for warnings, view the rain radar for current conditions, or to check the forecast for storms.
As recommended by Surf Life Saving Australia, when you arrive at your fishing spot you should also spend some time watching the wind and the waves and talking to other anglers. While fishing, rock fishers need to be vigilant to the potential changes in wave behaviour as the tide rises and falls. Wave and wind conditions can also change quickly on the water's edge.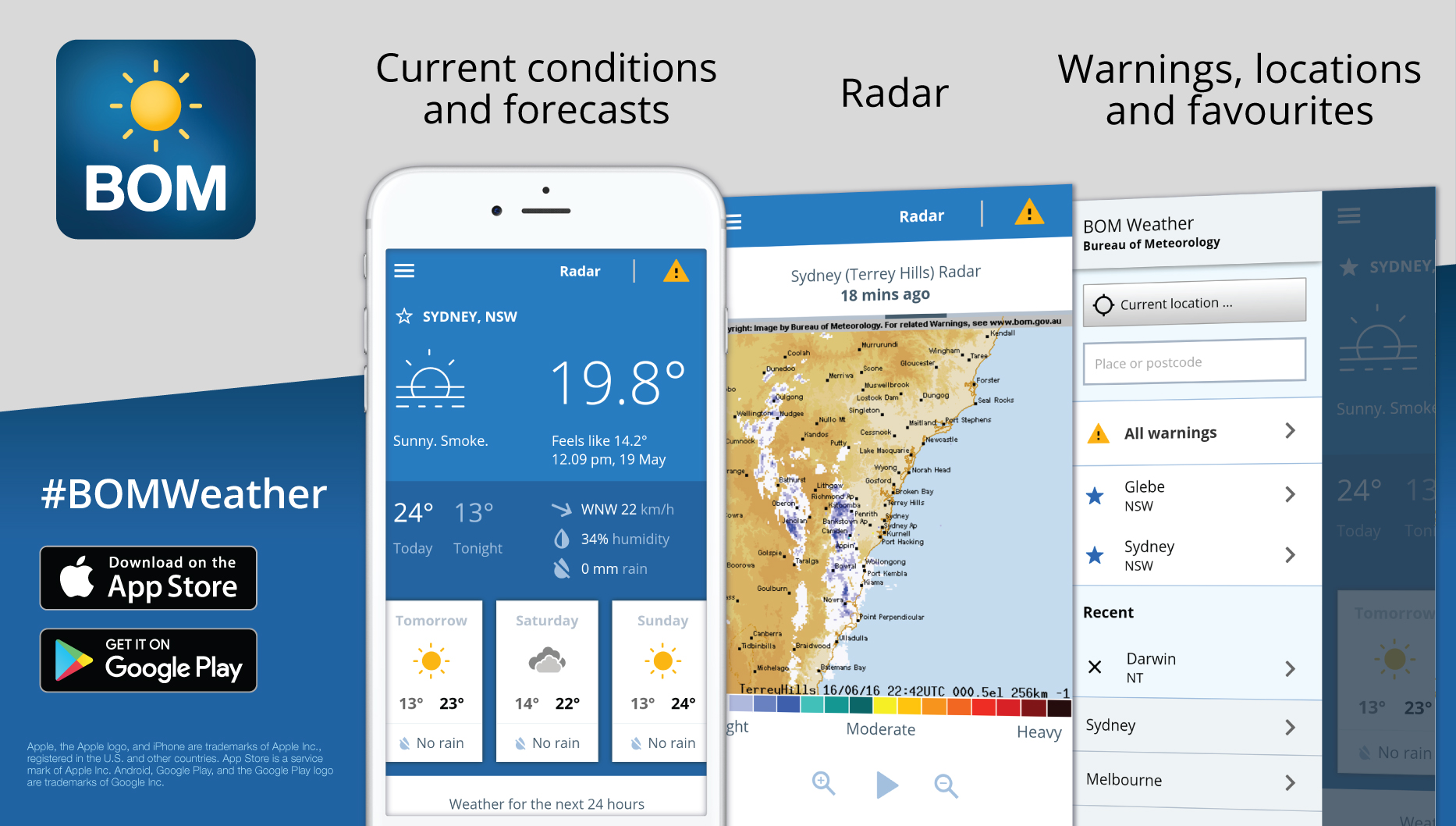 Image: the BOM Weather app.
More information
The Bureau's website contains more information about weather safety checks for rock fishing. These pages are also translated into traditional and simplified Chinese, Vietnamese, Korean, and Malay.
The Bureau's Tide Prediction portal has recently been upgraded to provide predicted tide heights and times for over 700 locations around Australia.
As well as always wearing a lifejacket, the NSW Government encourages all rock fishers to follow basic safety rules including wearing appropriate non-slip footwear and light clothing, never fishing alone, planning an escape route in case you are washed in, never turning your back on the ocean, and not jumping in if someone is washed into the water (instead call 000 or go and get help). Find out more about the lifejacket law.
Surf Life Saving Australia's beach safety tips for rock fishing.